Showcase pro wrestling
​Autumn ANNihilation TOur
"the best wrestling action in New England"

oct 21, 2017 7:07PM
​taunton VFW
82 Ingell St
​Taunton, MA

Nov 3 , 2017 7:47 pm
Spw aRENA & tRAINING cENTTER
126 mAIN sT
WOONSOCKET,ri

Nov 18, 2017 7:07 Pm
​taunton VFW
82 Ingell St
​Taunton, MA

dec 1, 2017 7:47 pm
Spw aRENA & tRAINING cENTTER
126 mAIN sT
WOONSOCKET,ri

Dec 2, 2017 7:07 pm
MOOSE LODGE
241 THACHER ST
ATTLEBORO, MA

---



Nicholas Night is Out with Severe burns to his Face

The former Champion Nicholas Night is back at home recuperating from the burns he received during his match with Cargill Vinton at the Moose Lodge. Night has third degree burns to his face and upper chest region as a result of a fireball thrown by Cargill Vinton. We sat down with the former champion to get his perspective on the events that occurred at the Moose Lodge.
'I can't believe Vinton would stoop so low. I should have seen this coming, Cargill Vinton was jealous of me winning the Gauntlet and taking the title away from Buck Nasty. He pulled a cheap shot at the VFW, then he asks for a match the following month, and for whatever crazy reason he backs out of the match. When Frank Rocha forces him to take the match and stop playing games. He pulls another cheap shot ad hits me with a fireball.
Where is the Cargill Vinton that would stand toe to toe with an opponent? Where is the Cargill Vinton that would take chop after chop and come fighting back? Where is that guy that would have your back and the guy that I could trust with my life? That's not the Cargill Vinton that I wrestled in Attleboro. The Vinton that stepped into the ring with me was a low life cheap shot artist that did the unthinkable. So now you have the championship and I have burns that will need some time to heal. Are you happy with your victory? You better be happy with it! You better be happy that you're a champion again because when we get back in that ring, and believe me I will get back in the ring. I'm going to bring back the old Nicholas Night. The Nicholas Night that the fans haven't seen in a long time. You want to hit me with a fire ball I'm going to fight fire with fire, and when it all ends and the smoke clears you will be on the sidelines a beaten man".

​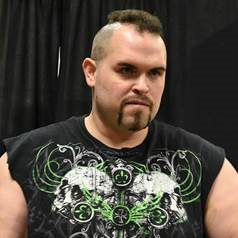 BUCK NASTY: "HEY ROCHA NOBODY IS COLLECTING THAT STUPID BOUNTY"!

The Commissioner has levied a bounty on the career of the former SPW Champion Buck Nasty. The amount is $5000 to any wrestler that can end the career of the most disgusting wrestler ever to step into the ring.

The bounty is in response to the beating that Buck Nasty gave to Kyle Rocha at the VFW hall in Taunton. Kyle became the target of a revenge attack by Nasty who blames Frank Rocha for Nasty's loss of the SPW title to Nicholas Night at Marchiversary.

According to Buck Nasty nobody is ever going to collect that bounty. "You can pay 'em $10,000, heck you can raise it all the way up to $100,000. It don't matter you ain't never paying out that money. There ain't nobody that's going to take out Buck Nasty and no amount of money from your weasel paws is going to change that. I took out your kid because you caused me to lose the SPW championship. You started this Rocha, and your punk kid got what he deserved. All that junk you spew about he's a kid, and he can't be hit, and he's just in there to be a referee. Forget it! He stepped into the ring, and you signed the waiver, and that means you set him up to take a beating. That's child abuse! Did you think that punk kid would leave the ring without a mark on him? If you thought that then you're dumber than you look! Your kid is just as dumb because he didn't even see it coming. We used to use slow brains like that to flush out the gators just have 'em step into the swamp and splash around, draws the gators right to the side of the boat. You can call out your friend Big Dawg to try to do your fighting for you, but he ain't gonna get it done neither. That Memphis boy better pack his bags and go back to the docks on the Mississippi unloading illegal immigrants like Rocha. That's right I know where your boy comes from and he's going back to the Memphis ghetto with a limp in his step, and maybe a few less teeth. Rocha you better watch your step. You get in my way and you'll need that money to get your bones put back together". ​
​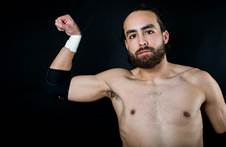 SPW HITS A HOMERUN AT FENWAY PARK SUPERSHOW

On July 23rd SPW joined several other wrestling companies for the El Mundo Latina Festival hosted by Everett based Victory Championship Wrestling at the home of the Boston Red Sox, historic Fenway Park. The event was a multi promotional endeavor, to allow wrestling companies throughout New England to showcase their wrestlers. Representing SPW at the festival were the Punisher Don Vega, Diabolical Scott Le'deur, Matrix, SPW champion Cargill Vinton, The Middlesex Express, Fellowship members Dante, and S.O.G. Ronnie Ribs, and the SPW rookie of the year Carlos.

This is the second year for event which drew thousands to the hallowed halls of Fenway. For many of the wrestlers being able to take part in a Fenway event is a dream come true as wrestling events at Fenway Park are few and far between, before last year's event, you would have to search back to June 28, 1969 when the WWWF Champion Bruno Sammartino wrestled Killer Kowalski in front of 15,000 fans. The SPW contingent was scattered throughout the day's events, but SPW was allowed one special Four-way match with Don Vega, Cargill Vinton, Matrix, and Scott Le'Deur. In which Don Vega came out victorious. However the title did not change hands as it was not an SPW sanctioned championship match. ​
---